← Back
Q & A With Bon Jovi's Former Touring Guitarist, Matt O'Ree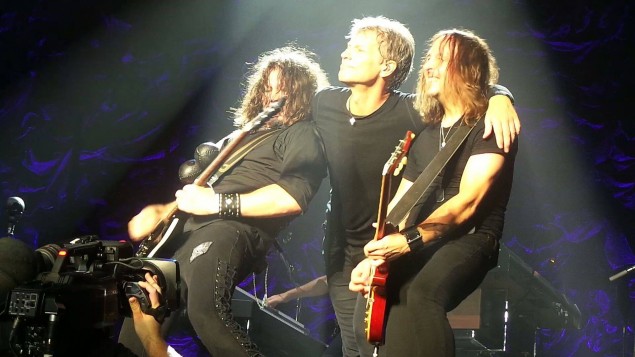 Holmdel, New Jersey musician, Matt O'Ree joined Bon Jovi as the new touring guitarist on the band's "Bon Jovi Live 2015" tour of South Asia, replacing Bobby Bandiera.
O'Ree, who formed the Matt O'Ree Band in 1994, is a blues-based guitarist. In 2006, he was declared the winner of the Guitarmageddon "King of the Blues" contest hosted by B.B. King and John Mayer through Guitar Center and Guitar World Magazine. He has released three studio records and two live albums (the first live album is accompanied by a DVD).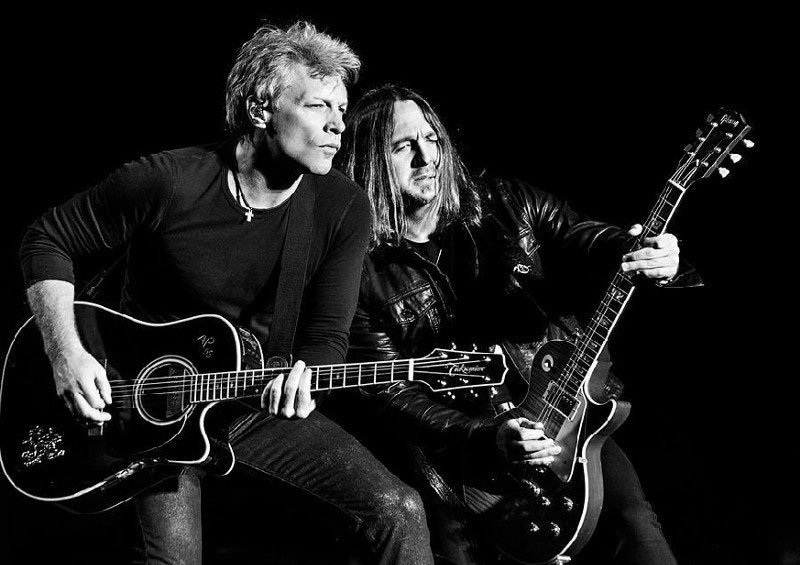 Jon Bon Jovi & Matt O'Ree performing in Seoul, South Korea on September 22, 2015 (Photo By: Robin Kim of Live Nation)

After the Bon Jovi tour, and between rehearsals for his "Matt O'Ree Band: The Welcome Home Concert" on October 30th at the Stone Pony, Matt took time out to answer some questions about himself and his music for Bon Jovi fans who want to know him a little better.
Give us a little background about where you grew up and went to school.
"I'm from Holmdel NJ. Grew up there and attended Holmdel High School. I lived not too far from the Garden State Arts Center, now PNC Arts Center. In fact I used to walk there as a kid from my house and get lawn seats to see shows. I would do anything just to see people play, as at a young age I knew deep in my heart that I was gonna do that for a living and for life. Odd thing to be so sure about anything at the age of 13, but as soon as I picked up a guitar, it was like a bolt of lighting. Best day of my life!"
How did you start out as a musician, and what was your first gig?
"I started playing at the age of 9, only lasted a few weeks. My dad used to play so I had that inspiration from him. It wasn't till I was 13 when I started seriously. My older brother came home with a Jimi Hendrix record, 'Are You Experienced?', as soon as I heard it, that was it! I was hooked. I had a dear friend in school, Garrin, that helped me with some of my chords and we used to jam on Saturdays at his house. Great memories. My first gig was with Garrin and his sister singing at the 8th grade dance. We still keep in touch to this day."
Who were your musical inspirations growing up, and do you play any other instruments beside the guitar?
"I only was ever interested in guitar for the most part. I do enjoy drums, but guitar is it for me. Growing up with my parents' influence of music was country, believe it or not. Willie Nelson, Waylon Jennings, Johnny Cash… My mom was a huge Elvis Presley fan. In fact I remember watching his funeral on TV and my mom crying along with the rest of the world. After that it was my brother's influence with Jimi Hendrix, and my sisters had Led Zeppelin II & IV, Gold Platinum from Lynyrd Skynyrd, Neil Young's After the Gold Rush. And the list goes on and on. All these wonderful musicians played such an amazing foundation for me at an early age. I still listen to their records everyday."
You've played shows with David Bryan before, how did you guys meet?
"Yes, I met David one night while playing at Jamian's in Red Bank, NJ. I didn't know we had a mutual friend and he brought David over to see us play. After meeting him on a set break, I asked David to sit in with us for a song. From the first note we played together, it was an instant friendship. It's amazing the power of music, it can bring two strangers together who have never met, and the next thing you know, boom. Friendship for life comes right along."
What was it like when you were on stage during your first show with Bon Jovi?
"It was a dream come true! So honored to have been a part of it and to get the chance to play with them. The feel of a stadium is truly overwhelming. An experience I will never forget and always cherish. I hope to do it again sometime soon!"
Was it easy integrating into a band of Bon Jovi's magnitude?
"At that level of playing and performing, its a major challenge for any musician. All the practicing that you've ever done your whole life comes into play. You need to rely on everything you've ever learned. Fortunately for me, I had some amazing teachers."

Matt is currently working on a solo album, that includes a track called "My Everything is You", which O'Ree co-wrote with Bon Jovi's, David Bryan.
Can Bon Jovi fans look forward to seeing Matt O'Ree with the band on the next tour? According to the Asbury Park Press (October 28, 2015), Matt's status in Bon Jovi is yet to be determined.
Upcoming Matt O'Ree Band Shows: November 5th at Mexicali Live in Teaneck, and November 18th at B.B. King Blues Club & Grill in New York City (opening for Whitford/St. Holmes).
For more information about The Matt O'Ree Band visit their website:
Matt O'Ree Band | Official Website | Blues Rock
The official website for The Matt O'Ree Band. Includes tour dates, merchandise, band bios, endorsements, news and more.www.mattoree.com